This is in the not so big news category, but something I've been wanting to tell you. Thanks for sticking in there.
We can make metal letters (or numbers) for you. We can make them in your choice of word, date or phrase.  We are very happy to create a personalized sign just for you.
It can be print, cursive, capitals, lowercase letters. And, it can be painted, or not. And, it can sit on a tabletop or it can hang. We can create a sign with your last name, a favorite phrase, a special date, or whatever you envision.
We can make a sign for a special gift, for your home, your farm, your office or your business.
We cut our signs out with a hand-held cutter. As much as we try to be precise, we are only human. There will be little edges in your letters, you can see them in the photo here, from subtle movements we make as we cut. We think it gives the sign nice, handmade character.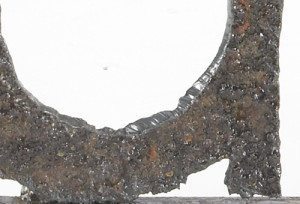 You can order your custom sign by the letter. Here are some letter choices. If you prefer another letter style, just let us know and we'll see what we can do.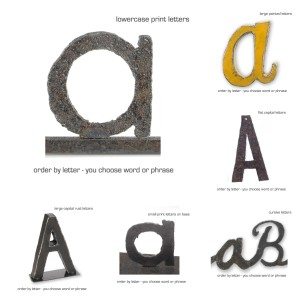 I am here
if you have any questions at all about your handmade, custom metal signs. Thank You!