Peacekeeper Cabinet
Size:  36″h x 47″w x 14″d
A quirky and pleasing combination of movement and shape make this piece totally unique. It can be used to keep a special collection or used as a liquor cabinet. This statement piece is handmade in rural Pennsylvania. The pattern is drawn on the metal with soapstone, cut with a hand-held plasma cutter, hand-shaped and arc welded together. Each piece will have its own subtle differences; they are cut, hammered, and built by hand. It is handmade with reclaimed metal with the exception of the top which is a new piece of 11 gauge steel.
The color is hand-painted with milk paint, giving the piece a naturally uneven and textured finish.  A clear finish is applied to the entire piece. Each Gatski is a blend of imperfect materials and capable hands.
Care:  Wipe clean with a damp cloth.
Additional information
| | |
| --- | --- |
| Furniture Type | Console Table |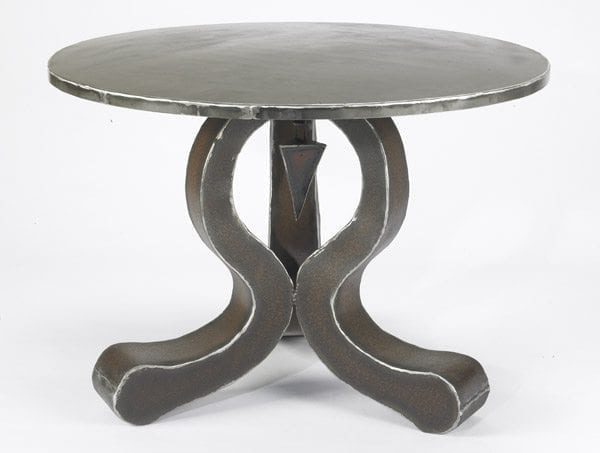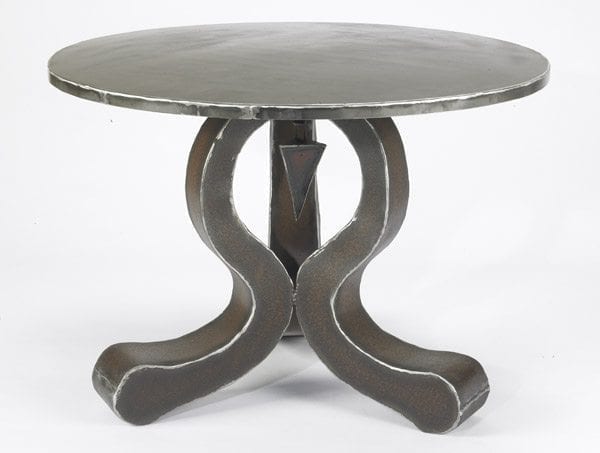 Dining Table, Furniture
This table is handmade by Ben Gatski in Pennsylvania. We made the base from reclaimed metal. We hand draw the pattern on the metal with soapstone and cut it with a hand held plasma cutter. We made the top from a new piece of hot rolled steel. We also hand grind all of the edges.
This table can be placed inside or out. It seats 3-5 people. The metal is sealed with a water-based enamel. Care: Wipe clean with a damp cloth. If outdoors, you can maintain a shiny metal look (optional) by applying a clear metal enamel, available in a spray can at your local hardware store. Size: 30"h x 43"w x 43"d
$

2,600.00