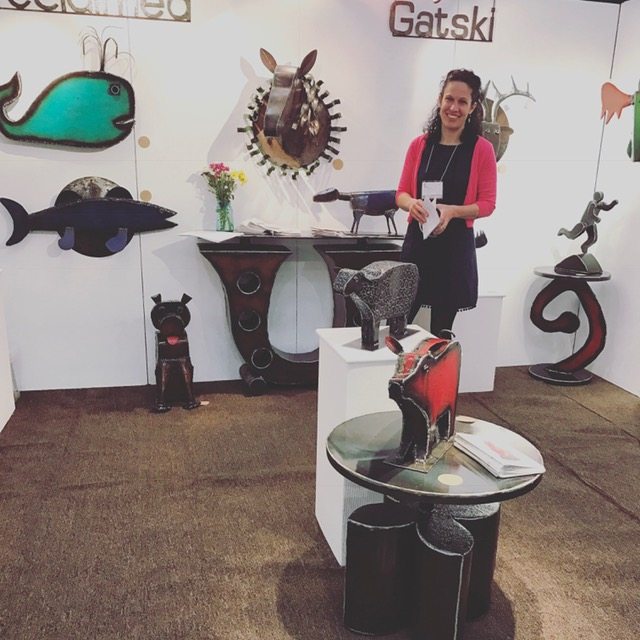 I wasn't totally honest with you. Last month I made our pre-show routine sound like a carnival; a rumba down the lane! Well, it kinda is – but it's also kinda not. I left out some of the story…the worries. Because, well, who wants to hear about that?
But I have good news: Many of our worries vanished. Poof! Gone into the warm air.
Yes, you read that right! Warm air. We had a heat wave in February and it eased our minds tremendously. There was no need to obsessively check the weather (for blizzards and ice storms), no need to make a last-minute trip to the ash pile (to make the driveway passable), no need to stack firewood to the heavens. We were blessed with a solid week of temperatures dancing around 60 and 70 degrees! Yes, it was a little peculiar, but we appreciated it as it was.
Ok, enough about the weather. "So, how was the show?" you might ask. And, I would say, "It went well!"
It is always an honor to be part of the-high quality fine American craft at the show (I especially loved the work of our neighbors across the way, they are here and here). And it's wonderful to see buyers who've been supporting our work for many years now (like Humanarts and Laughing Dog). And it's great to get feedback and ideas from curators (like those at Artful Home)!
All in all, our rumba turned out quite nicely.
And…did I mention the weather?
Each month, we share a story here on the blog and then share another in our monthly email newsletter. If you want to be sure not to miss a single one, sign up for our emails here. We'll include a link to the latest blog post in each email.
In this month's newsletter, there's less talk of weather and more talk about animals – both the real ones and their artistic counterparts…along with the Gatski of the Month and more! We also share sales and special deals with our newsletter subscribers first, so sign up right here.
 And if you're interested in hearing more about how we can do our dance (hopefully in good weather!) to create a custom piece for you, email us at [email protected]. We'd love to hear from you!