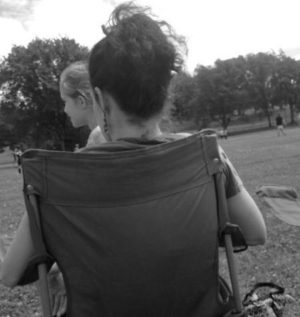 I know almost nothing about the theater business, but I believe we've had what those in the know might call a "set change."
While our work has always traveled great distances, we've stayed mostly tucked into the same set – our little hillside – until recent years.
Uh oh! The Gatskis are loose!  
As our children have gotten older, they have gotten more involved in activities off the hill – meaning we spend time shuttling them here, there, and everywhere. And as we spend more time amongst new faces, we find ourselves doing something we hadn't done very much: talking about our work when out and about.
For a long time, our usual scenery involved Gatski Mountain. We confined our work to our shop and our office, communicating with you by phone and email, occasionally traveling to a wholesale show.
But lately, we're finding that a new set has been built, one that includes parents and grandparents of classmates, local school, and even community organizations – all of which we've created pieces for (many donated).
And I think we're just getting started, both as a taxi service for our children and in making new connections.
So if you have a smaller project in mind, or are looking for a donation for your favorite local cause, just ask us and we're happy to consider it. More and more, we're welcoming the chance to explore new sets  – but goodness knows, we're a long way from stage or stardom, so chances are good you'll hear from us directly!   
Each month, we share a story here on the blog and then share another in our monthly email newsletter. If you want to be sure not to miss a single one, sign up for our emails here. We'll include a link to the latest blog post in each email.
In this month's newsletter, we'll share more stories about all the this-and-that we've been up to lately, along with the Gatski of the Month and more! We also share sales and special deals with our newsletter subscribers first, so sign up right here.
And if you're interested in adding your own custom piece to our current scenery, email us at [email protected]. We'd love to hear from you!