Bernie the Bear
This Bear Head sculpture is handmade in Pennsylvania from reclaimed metal. The pattern is hand drawn on the metal with soapstone and cut with a hand held plasma cutter. The Bear is then hand hammered and arc welded into shape.
Each piece will have subtle variations. They are cut by hand and each piece of metal has slight color differences. The metal is sealed with a water-based enamel. This piece can be placed inside or out.
This head can easily be hung with a nail or screw. It weighs approximately 10lbs.
Care:  Wipe clean with a damp cloth. If outdoors, you can maintain a shiny metal look [entirely optional] by applying a clear metal enamel, available in a spray can at your local hardware store.
Size: 17"h x 16"w x 14"d
Additional information
| | |
| --- | --- |
| Weight | 15 lbs |
| Dimensions | 17 × 16 × 14 in |
| Sculpture Type | Wall Sculpture |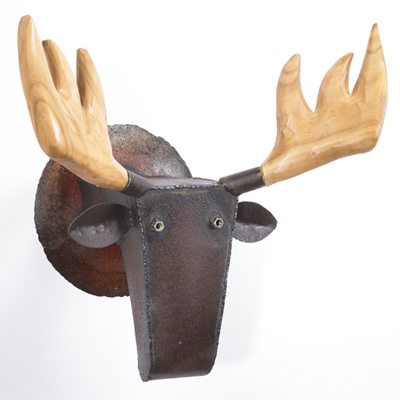 Sculpture, Wall Sculpture, Wholesale
Our "Moose in the Woods" wall sculpture is made with reclaimed metal and wood.  We hand draw the pattern on the metal with soapstone and cut it with a hand held plasma cutter. We then hammer and weld the head into shape. Finally, we attach it to a reclaimed corn planter disk. We cut the horns from a large block of wood and shape them by hand.
This moose is sealed with a water-based enamel.  Each head will have subtle variations. They are cut by hand and each piece of metal has slight color differences. This head can easily be hung with a nail or screw. The weight is approximately 18lbs. Care:  Wipe clean with a damp cloth. You can maintain a shiny metal look [entirely optional] by applying a clear metal enamel, available in a spray can at your local hardware store. Size:  28.5"h x 28"w x 20"d
$

655.00