June 2018 Limited Edition, The Rocket Beyond
We're very excited to introduce you to our 2018 Limited Edition Series. We're calling it Gatski Galaxy. We will be creating one new 8″ square wall tile each month, with a celestial theme. You can collect several, or all of these tiles. We will be creating just 25 of each one, and they will be signed and numbered on the back.
We're blasting off into summertime! This rocket ship signals our launch into these long light-filled days, warm breezes and sweet watermelon. Ahhh, summer!
Size:  8″h x 8″w x 3″d
31 in stock
Add to Wishlist

Categories: Uncategorized, Home & Gift
Tags: celestial art, celestial decor, celestial wall decor, gatski galaxy, Limited Edition Gatski, metal rocket, metal wall tile, rocket art, rocket wall art, wall tiles
Additional information
| | |
| --- | --- |
| Weight | 5 lbs |
| Dimensions | 14 x 10 x 5 in |
| Home & Gift Type | Home Decor |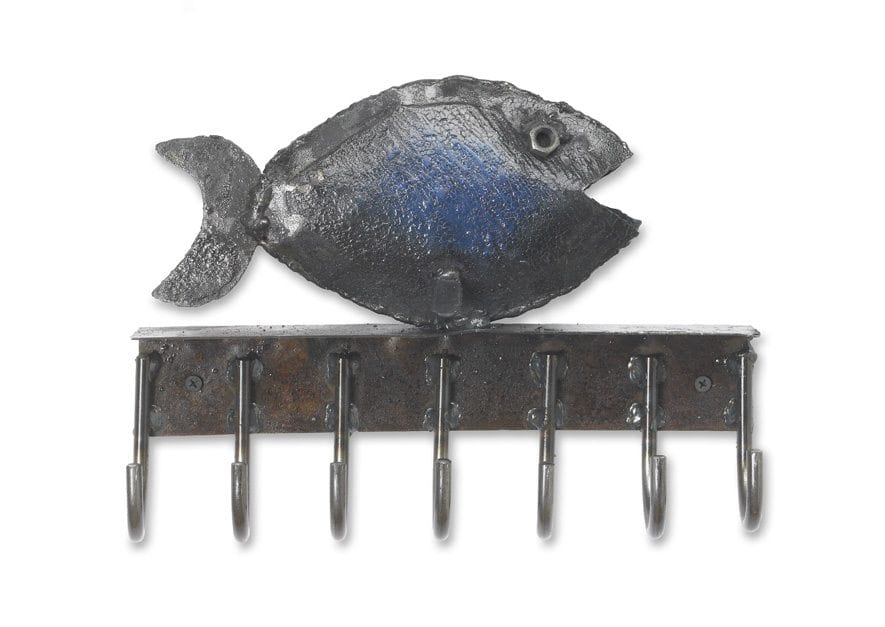 Home & Gift, Wholesale
The fish is hand cut from reclaimed metal, and painted with blue milk paint. The pattern is hand drawn on the metal with soapstone and cut with a hand held plasma cutter. The two halves of the fish are then welded together. The hooks are made with metal rod that was cut and bent into shape.
Each fish will have very subtle variations. They are cut by hand and each piece of metal has slight color differences.
The metal is sealed so you can hang this charming fish hook inside or out. It is easy to hang with either a nail or a screw.
Care: Wipe clean with a damp cloth. If outdoors, you can maintain a shiny metal look [entirely optional] by applying a clear metal enamel, available in a spray can at your local hardware store.
Size:  12" wide by 8″ high
$

135.00