Lily Candlestick
This darling candlestick holder is handmade in rural Pennsylvania with reclaimed metal. The pattern is drawn on the metal with soapstone, cut with a hand-held plasma cutter, hand-shaped and arc welded together. Each piece will have its own subtle differences; they are cut, hammered, and built by hand. The candle is not included.
A clear finish is applied to the entire piece.
Size:  9″h x 6.5″w x 5.5″d
Care: Wipe clean with a damp cloth.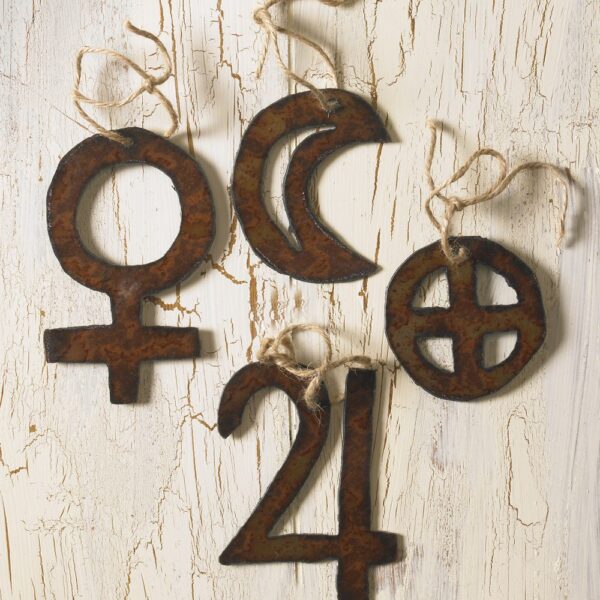 Ornaments, Home & Gift
Bring the the wisdom of lunar gardening to your home with these unique ornaments . Each represents a planet (and the moon) symbol.  Included in this lovely grouping of four are, Venus to symbolize beauty, Moon for the subconscious, Jupiter to promote a positive frame of mind, and of course our home Earth. These are handmade by Ben Gatski in Pennsylvania with reclaimed metal. They could dress up a dull wall, add a pinch of texture to anything needing that extra hint of variety, or of course you could hang them on any indoor botanical of your choosing. Let your creativity soar and incorporate these unique ornaments into your home to perfect your decor. Price is for one ornament. Please let us know if the "order notes" which symbol you would like. Care: Wipe clean with a damp cloth. If outdoors, you can maintain a shiny metal look [entirely optional] by applying a clear metal enamel, available in a spray can at your local hardware store. Size:  5"h x 4"
$

20.00