May 2018 Limited Edition Moon Flower, Bloom
We're very excited to introduce you to our 2018 Limited Edition Series. We're calling it Gatski Galaxy. We will be creating one new 8″ square wall tile each month, with a celestial theme. You can collect several, or all of these tiles. We will be creating just 25 of each one, and they will be signed and numbered on the back.
May's moon is called the Flower Moon. And, we thought what a perfect way to honor this glorious month blooms with a Moon Flower! I remember watching them open in my Mothers garden in the evenings. They are beautiful!
Size:  8″h x 8″w x 3″d
31 in stock
Add to Wishlist

Categories: Uncategorized, Home & Gift
Tags: celestial art, celestial decor, celestial wall decor, earth day, earth day art, gatski galaxy, handmade earth day art, Limited Edition Gatski, metal wall tile, wall tiles
Additional information
| | |
| --- | --- |
| Weight | 5 lbs |
| Dimensions | 14 x 10 x 5 in |
| Home & Gift Type | Home Decor |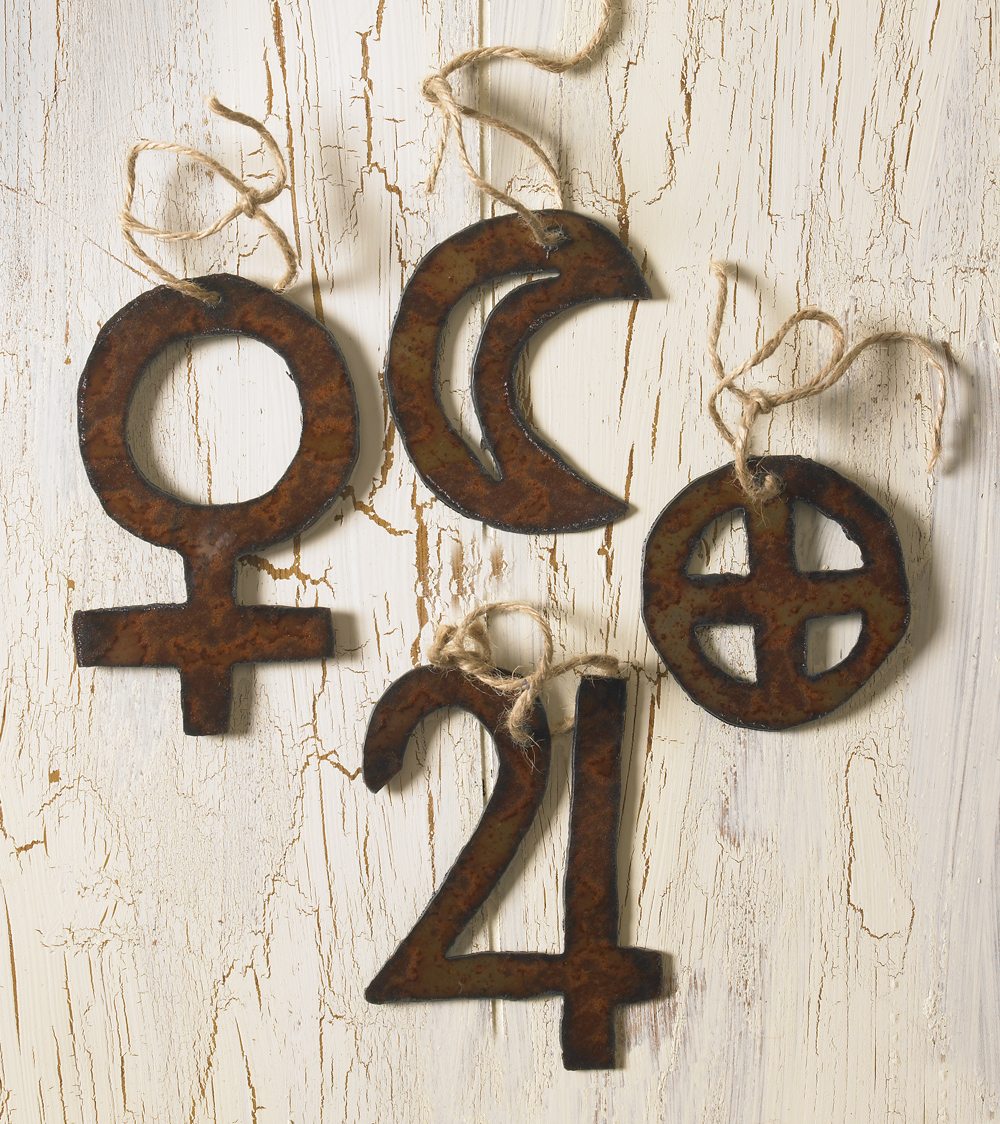 Home & Gift, Wholesale
Bring the the wisdom of lunar gardening to your home with these unique ornaments . Each represents a planet (and the moon) symbol.  Included in this lovely grouping of four are, Venus to symbolize beauty, Moon for the subconscious, Jupiter to promote a positive frame of mind, and of course our home Earth.
These are handmade by Ben Gatski in Pennsylvania with reclaimed metal. They could dress up a dull wall, add a pinch of texture to anything needing that extra hint of variety, or of course you could hang them on any indoor botanical of your choosing. Let your creativity soar and incorporate these unique ornaments into your home to perfect your decor.
Price is for one ornament. Please let us know if the "order notes" which symbol you would like.
Care: Wipe clean with a damp cloth. If outdoors, you can maintain a shiny metal look [entirely optional] by applying a clear metal enamel, available in a spray can at your local hardware store.
Size:  5"h x 4"
$

12.00