Gatski Desk
Find focus at this modern desk. It's simple yet offbeat design is a refreshing add to a home office space. It's an ideal size for getting things done on your laptop or desktop while having extra space for other necessities like the jumbo water thermos. Make it a dedicated workspace for the kids, and use it as a children's desk for homework or art projects.
This simple yet striking desk is handmade in rural Pennsylvania with reclaimed wood and metal. The base was built by using a hand-held plasma cutter to cut the pattern. It was then hand-shaped and arc welded together.
Each piece will have its own subtle differences; they are cut, hammered, and built by hand.
The color on the base is hand-painted with milk paint, giving the piece a naturally uneven and textured finish.  A clear finish is applied to the entire piece.
Care:  Wipe clean with a damp cloth.
30″h x 54.5″w x 25″d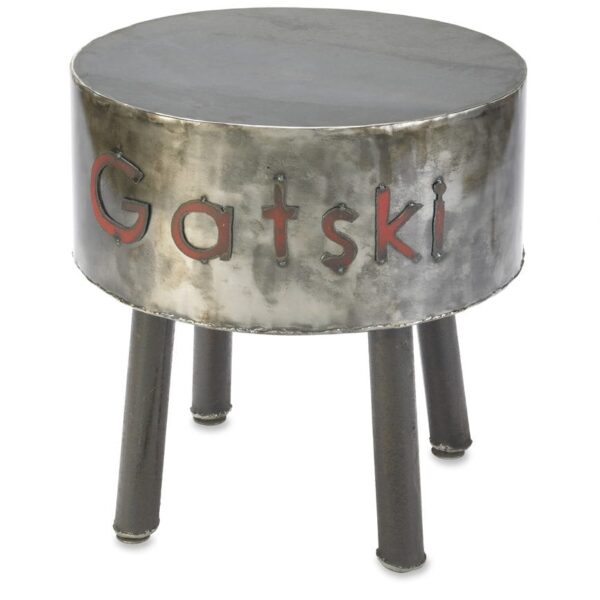 Side Table, Furniture
[embed]https://www.youtube.com/watch?v=0u8nsRSzgC4[/embed]
Create a truly unique heirloom. Add your name and a special date, or a special phrase to the side of this metal table. We will create it custom just for you. This table is shown with a name on one side and a date on the other side. We can create something similar for you. Each piece of steel was hand cut and welded together.
This would make a great gift for your 11th anniversary - the year for steel!
Care: Wipe clean with a damp cloth.
Please provide your name and date or phrase in the "order notes" when checking out. Or, describe your table in detail via email -
[email protected]
.  If you have any questions at all, we are more than happy to help out.
Size: 22"h x 20"w x 20"d
$

730.00