Horseshoe Console Table
Bring on the luck! We created this statement horseshoe table with reclaimed metal. We made the base by hand hammering flat metal into shape and welding it together. We make the top with a new piece of US made 11 gauge steel.
Care:  Wipe clean with a damp cloth. If outdoors, you can maintain a shiny metal look [entirely optional] by applying a clear metal enamel, available in a spray can at your local hardware store.
Size: 36"h x 48"w x 13"d
Additional information
| | |
| --- | --- |
| Weight | 100 lbs |
| Dimensions | 36 × 48 × 13 in |
| Furniture Type | Console Table |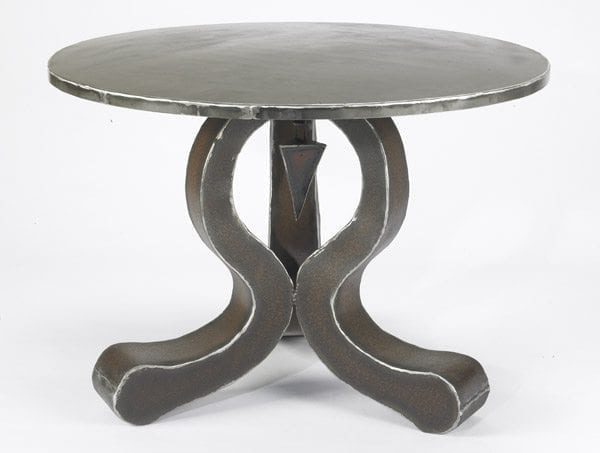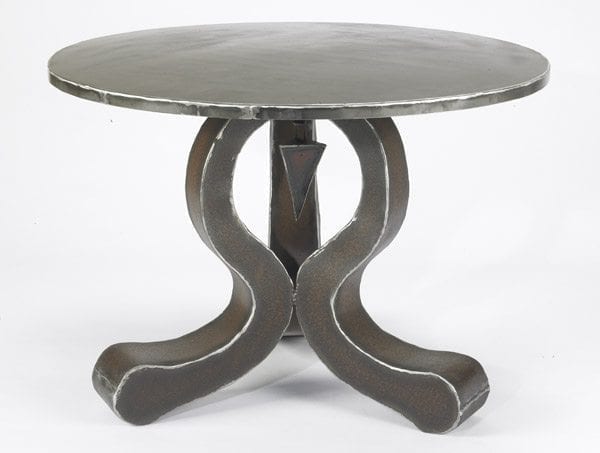 Dining Table, Furniture
This table is handmade by Ben Gatski in Pennsylvania. We made the base from reclaimed metal. We hand draw the pattern on the metal with soapstone and cut it with a hand held plasma cutter. We made the top from a new piece of hot rolled steel. We also hand grind all of the edges.
This table can be placed inside or out. It seats 3-5 people. The metal is sealed with a water-based enamel. Care: Wipe clean with a damp cloth. If outdoors, you can maintain a shiny metal look (optional) by applying a clear metal enamel, available in a spray can at your local hardware store. Size: 30"h x 43"w x 43"d
$

2,600.00