Red Together Console Table
Inspired by love and being together! This console table is a nod to the heart, and the love it represents. We created the overarching forms that lean-on, and are connected together. We made this table by hand cutting reclaimed sheet metal and welding it into shape. The color is red milk paint which is hand-painted on the base. The top is made with new steel.
Each table will have unique variations, no pieces of metal will wear alike. We are always happy to email you a photo prior to shipping- simply contact us.
Care: Wipe clean with a damp cloth.
Size: 31″h x 48″w x 14″d
Additional information
| | |
| --- | --- |
| Weight | 150 lbs |
| Dimensions | 35 × 52 × 18 in |
| Furniture Type | Console Table |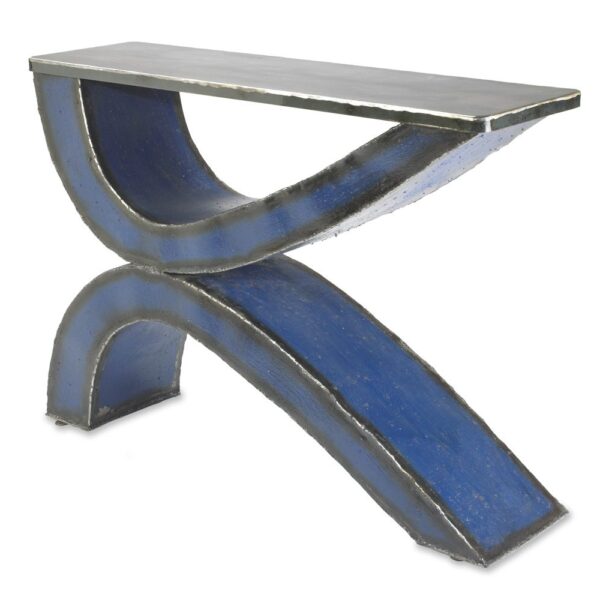 Console Table, Furniture, Wholesale
[embed]https://www.youtube.com/watch?v=1dRZiZ4THUM[/embed]
Handmade in Pennsylvania by Ben Gatski, this table is made with reclaimed metal. We made the base by hand hammering flat metal into shape and welding it together. It is painted  with blue milk paint. We make the top with a new piece of US made 11 gauge steel.
Care:  Wipe clean with a damp cloth. If outdoors, you can maintain a shiny metal look [entirely optional] by applying a clear metal enamel, available in a spray can at your local hardware store. Size: 34"h x 48"w x 13"d
$

2,700.00