Home in the Heart
$345.00
Rated 5.00 out of 5
Home is in the heart! Wherever your heart may be, may you find home there. This darling tabletop sculpture is an ode to feeling at home in your heart. It's a perfect art piece for your entryway table or for your fireplace mantle. It would be a very special new home gift, closing gift or housewarming gift.
This Heart Home is handmade in rural Pennsylvania with reclaimed metal.
The pattern is drawn on the metal with soapstone, cut with a hand-held plasma cutter, hand-shaped and arc welded together.
Each piece will have its own subtle differences; they are cut, hammered, and built by hand.
The color is hand-painted with milk paint, giving the piece a naturally uneven and textured finish.  A clear finish is applied to the entire piece.
Each Gatski is a blend of imperfect materials and capable hands.
Care: Wipe clean with a damp cloth. If outdoors, you can maintain a shiny metal look (optional) by applying a clear metal enamel, available in a spray can at your local hardware store.
Size:  22″h x 10″w x 6″d
Additional information
| | |
| --- | --- |
| Weight | 12 lbs |
| Dimensions | 24 × 17 × 10 in |
| Sculpture Type | Freestanding Sculpture |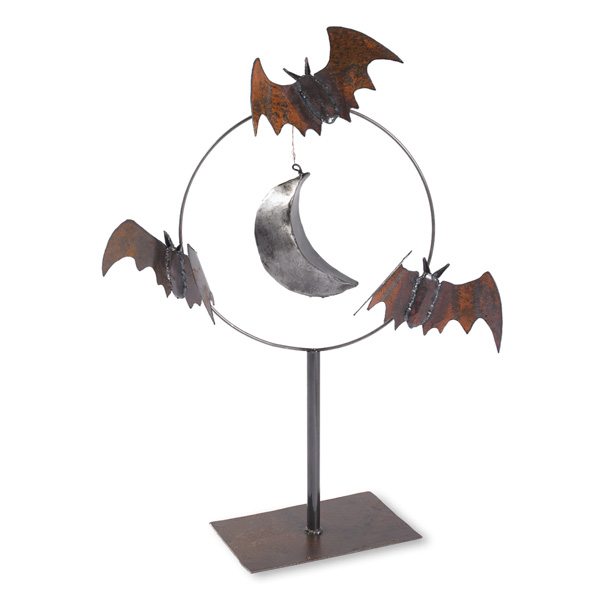 Garden Sculpture, Large Sculpture, Sculpture, Wholesale
We had fun creating this unique bat sculpture. We imagined this for the garden but it would be fun in any indoor or outdoor space. We hand draw the pattern on the metal with soapstone and cut it with a hand held plasma cutter. We then hand hammer and weld it into shape. The metal is sealed with a water-based enamel. This piece can be placed inside or out. Each anchor will have subtle variations. They are cut by hand and each piece of metal has slight color differences. Care: Wipe clean with a damp cloth. If outdoors, you can maintain a shiny metal look [entirely optional] by applying a clear metal enamel, available in a spray can at your local hardware store. 39"h x 29"w x 8"d
$

550.00