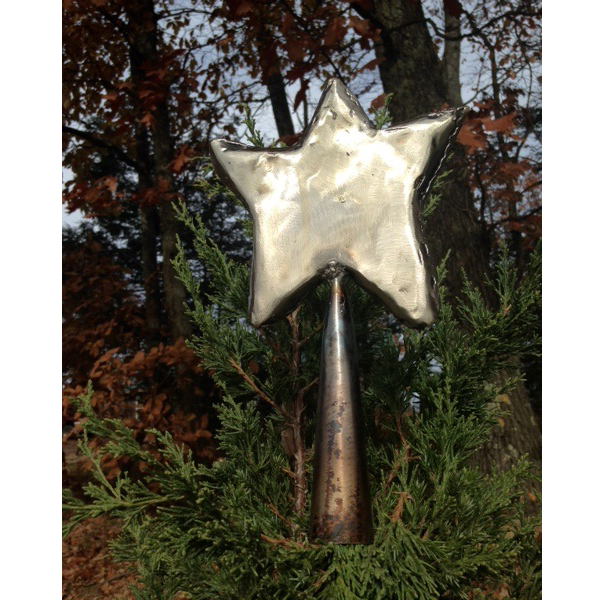 File this under We wouldn't have thought of that! – the tree topper. We often prattle on about being open to your ideas (which we absolutely are), likely to the point where you're going, "Ok, ok, we got it, Gatskis." But we repeat it so often because, just with like our own ideas, we love seeing where they lead. And sometimes we are genuinely surprised.
Recently, one of our galleries mentioned they've had numerous customers come in looking for star tree toppers. And they didn't have anything to satisfy these requests. So – you know us – we said we would be happy to try creating one. We did, and we enjoyed the results so much we decided to offer it in our Etsy shop.
And we found out it was true – there are definitely "star tree topper shoppers" (say that fast five times) out there! At least, there were eight who decided pretty quickly that our tree topper was right for them. It is fairly unusual for us to sell multiples in a short amount of time (it's usually a bit of this and a bit of that), so it has been quite exciting to be amidst a mini rush for the star tree topper!
Of course, that leaves us sharing yet another reminder (I know, I know) to please let us know if you have any thoughts about pieces you'd like to see us make. We love to hear your ideas! And together we might create something fantabulous (fantastic + fabulous)!
Each month, we share a story here on the blog and then share another in our monthly email newsletter. If you want to be sure not to miss a single one, sign up for our emails here. We'll include a link to the latest blog post in each email.
In this month's newsletter, we're keeping it light and festive – with a little something new "in the mix" (that's a clue!) along with the Gatski of the Month and more! We also share sales and special deals with our newsletter subscribers first, so sign up right here.
And if you're interested in ordering holiday gifts, email us at [email protected]. We'd love to help you find the perfect gift!