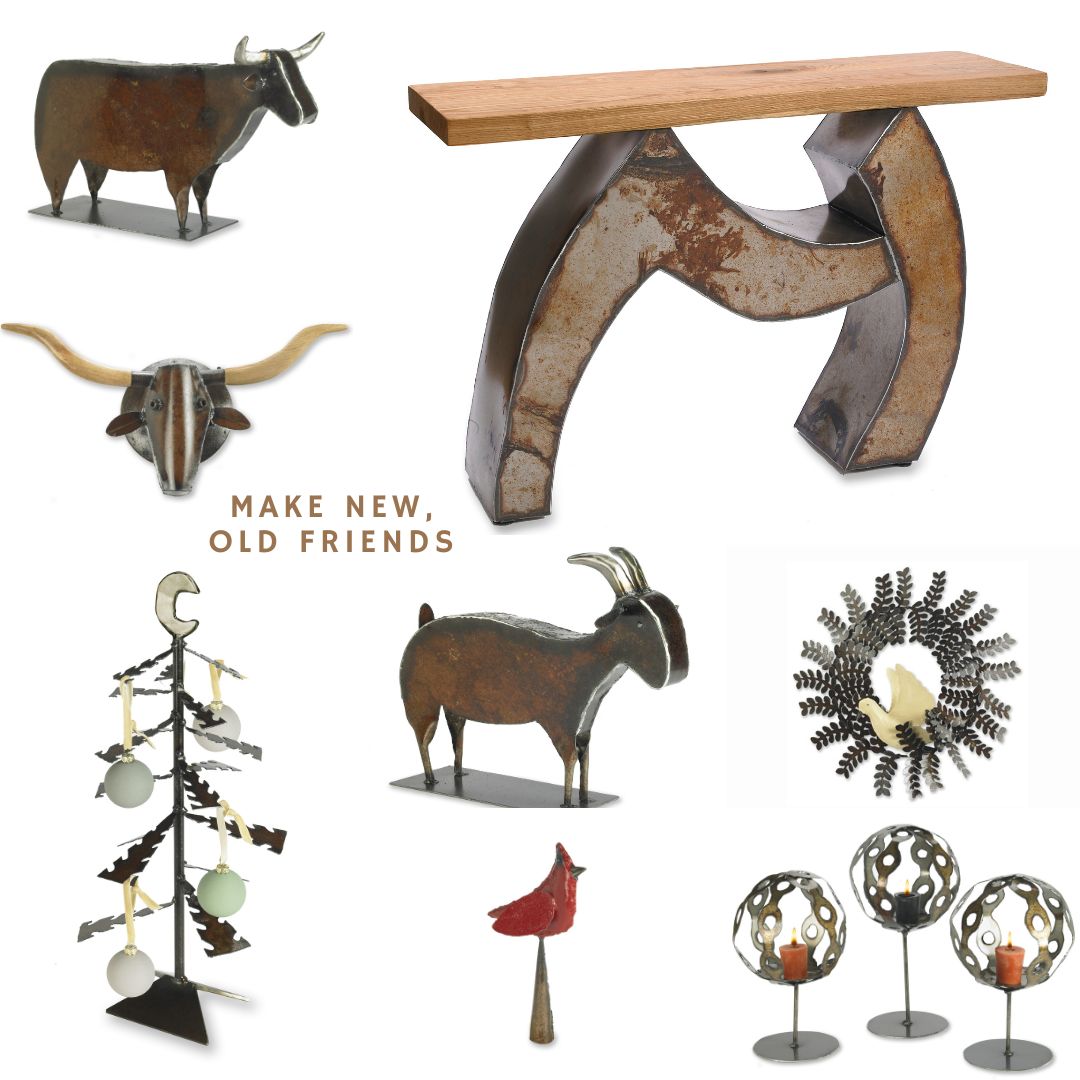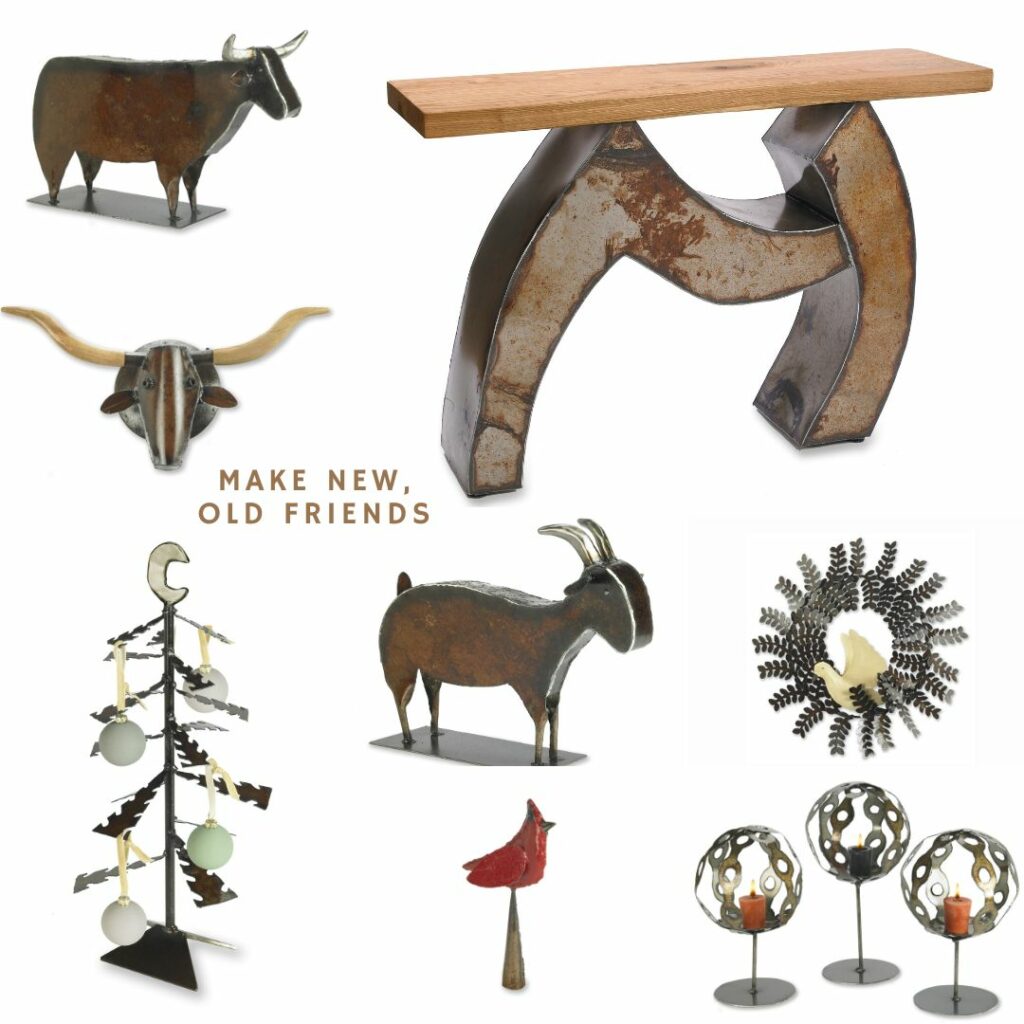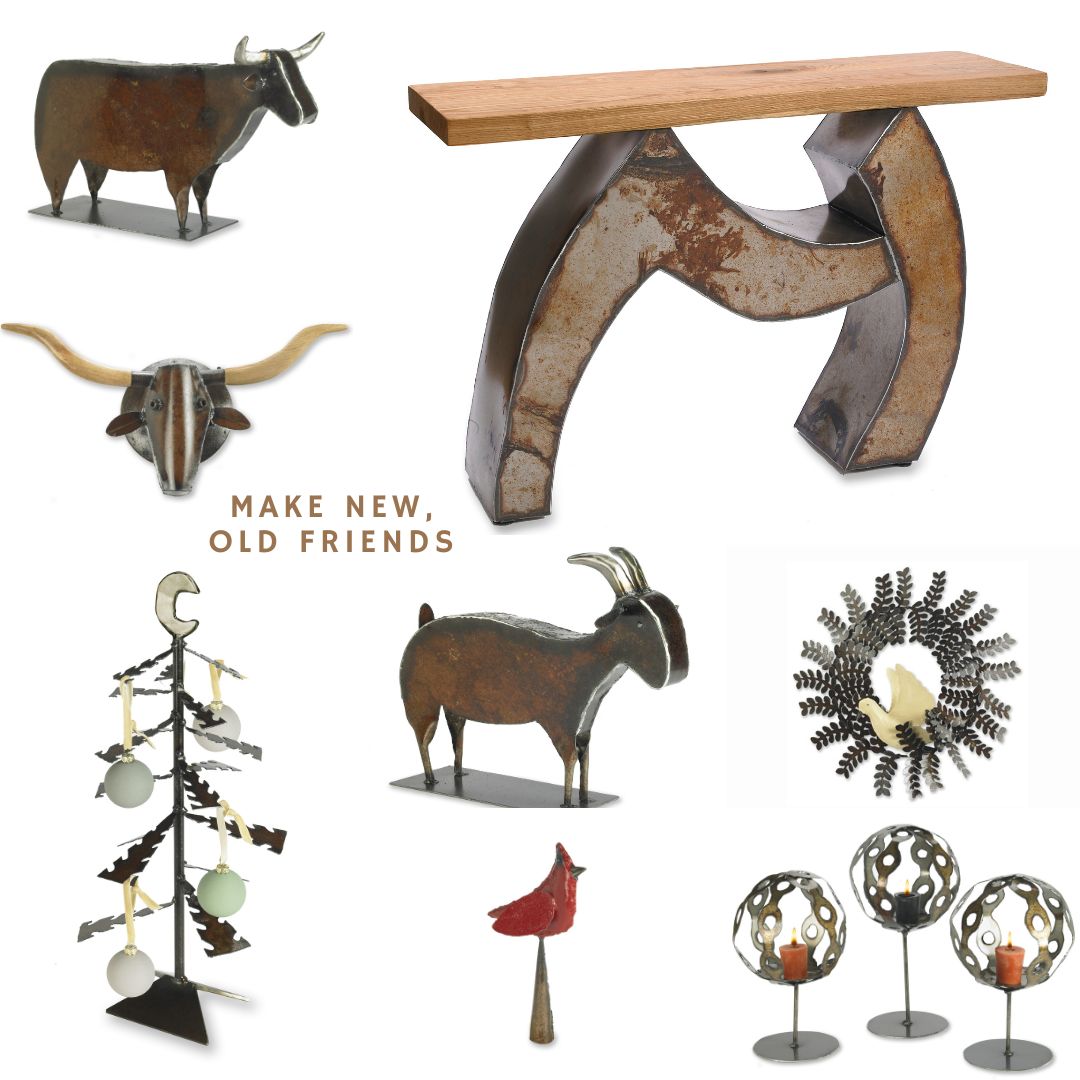 Ben's Cow, Soon to be Named Console Table, Longhorn Cow, Evergreen Ornament Tree, The Greatest Goat, Peace Dove Wreath, Cardinal Tree Topper, Candle Lantern
In our new friend collection, we're happy to welcome Ben's Cow. If there is one thing Ben can easily translate from his mind to metal, it is a cow. This cow seemed to just appear one afternoon. There was none of that back and forth, change this/change that, redo, do over nonsense. In a quick snap, he had a cow. Well, just a few days later – he had another cow concept! And then, in another quick snap, a Longhorn Cow appeared. Now's the moment we appreciate the twenty years of molding metal and raising cows! Snap!
Moooving on…. we didn't want the Greatest Of All Time to be left out (aka the G.O.A.T). It was all fun making The Greatest Goat. Ben helps our daughter with her two pet goats, while their "Greatness" is debatable they can certainly take up, "All Time."
We also created a few holiday pieces, which give us a chance to mark the celebratory times toward the years end. We created a Dove Wreath, which would be an elegant addition to your entryway wall. We also added a Cardinal Tree Topper to our line of Tree Toppers, which are very popular over on Etsy. We also made a new Evergreen Ornament Tree, intentionally designed to be lovely with or without ornaments. And finally, we enjoyed creating unique candle lanterns which make very awesome shadows when lit with a candle. These would be great for an outdoor holiday gathering!
Last but not least, a stately new Console Table. Ben originally referred to it as the "When Push Comes to Shove" table. Our 12 Year old daughter suggested calling it, "Interpretations." Which is pretty accurate, given that it can be what it wants to be. We're still pondering name possibilities. Any ideas you want to throw in the ring?